GEZE employees celebrate their work anniversary with the Managing Director
Every year, GEZE GmbH honours employees who have worked for the family business for 25 or 40 years. This year, a total of 13 employees were acknowledged at the celebration in the Schloss Rosenstein Museum.
A special anniversary celebration
Nine of this year's GEZE employees celebrating a work anniversary have been with the company for 25 years, and three have been with us for 40 years. None of them imagined staying with the company for so long when they first joined. Brigitte Vöster-Alber, Chief Executive Officer of GEZE, shared this sentiment as she celebrated her 50th year as the head of the company. "I was 24 years old when I took over general management. At that age, you don't think so far ahead. I didn't think it would actually be 50 years. But from childhood on it was impressed on me that I would hold the position for a long time," says Brigitte Vöster-Alber.

Since 1968, she has been at the head of the company, which employs over 3,000 people worldwide and is one of the leading suppliers of door, window and safety technology, automatic door systems and building automation. Since then, she has continued to advance and continuously expand the company's corporate strategy, its product portfolio and foreign business. A total of 28.8 million euro has been invested in the headquarters in Leonberg alone over the last few years, reflecting the CEO's clear commitment to the site and the 'Made in Germany' quality mark.
Strong cohesion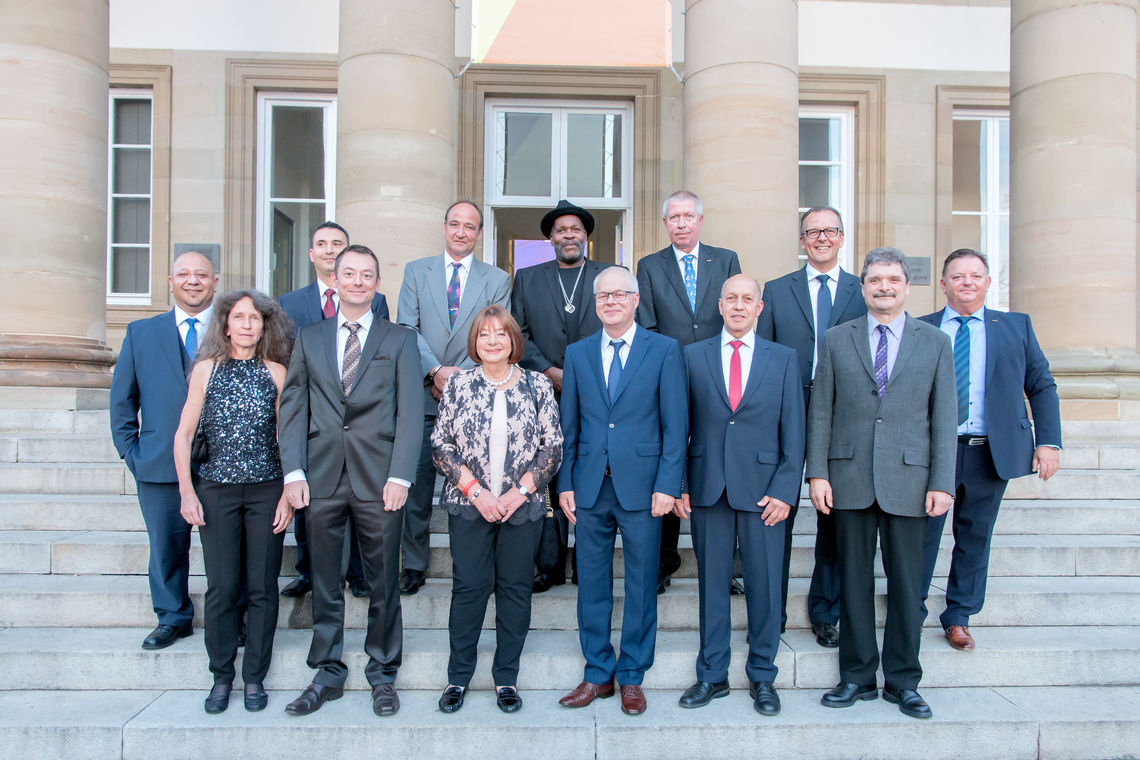 This year's GEZE GmbH employees celebrating a work anniversary. This year, Chief Executive Officer Brigitte Vöster-Alber also celebrates her 50th company anniversary (front, 3rd from left). © GEZE GmbH
GEZE, a family business, consciously fosters close contact with its workforce. "Our work anniversary celebration is one of the most important dates of the year, because without our employees we would not be where we are today," says Brigitte Vöster-Alber. "I am very pleased that this year, I too am celebrating a work anniversary, and that we are celebrating our long-standing solidarity with GEZE together. Long-time employee Christine Lehnert also appreciates the closeness to other colleagues in the company. The Project Consulting clerk has been with GEZE for 25 years. "GEZE has always supported me, for instance when my family situation changed. The company has always found solutions that work for both sides."
A company that inspires
Werner Weis has also been working with GEZE for several decades. 2018 marks his 40th anniversary with the company. As a foreman and trainer in the training workshop, he has finally found his personal dream job after several positions within the company. "It's great fun for me to individually support and promote our apprentices in the industrial sector. There's always something new," says Werner Weis. "There's also always a lot going on at GEZE; the company is constantly developing and creating new innovations".