Topics
The energy revolution in the building sector
Many people's first thought when they hear the term 'energy revolution' is renewable energy sources. But is also means reducing energy consumption at the same time. Buildings offer a great deal of energy-saving potential as they cause around 35 per cent of Germany's total final energy consumption. Making buildings more energy efficient, in other words optimising energy consumption during operation, is a major key to sustainably reducing consumption. Energy efficiency is therefore hugely important for architects and planners as well as users and end users.
The goal is to reduce CO2 emissions
Warm rooms in winter, cooling in summer, lighting at night, quick transportation, operation of machines and appliances - we need a great deal of energy in our everyday lives. But the energy we consume comes mainly fossil fuels, and burning them results in CO2 emissions. Today, we know this is most probably behind our worryingly rapid climate change.
The climate protection target in Germany is therefore to reduce CO2 emissions by at least 40 per cent by 2010 compared to 1990, and by 80 to 95 per cent by 2050. Building stock should be largely climate-neutral at this point.
Facts and figures from Germany¹
There are 21 million buildings in Germany.
Buildings account for 35 per cent of final energy use in Germany.
Users of residential and non-residential buildings paid €73 billion for heating, hot water, lighting, and cooling in 2014.
Total energy demand and heat losses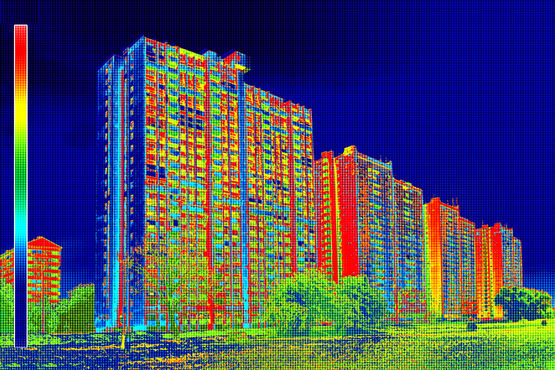 Thermal image of a façade: a great deal of energy is being lost here! © shutterstock
The building sector plays a key role in Germany's modern energy policy: more than a third of the total final energy consumed is currently used for buildings - for hot water, heating and cooling, ventilation and lighting. Often, a large proportion of room heat dissipates through walls, windows, roofs, doors, or floors.
The passive house and almost zero-energy home should become standard across the EU in the future. This is supported by the revised EU Regulation on the overall energy performance of buildings. It will apply initially only to new buildings but by 2050, all buildings should be climate-neutral. On the one hand, the energy demand for heating and cooling during building and renovating must be considerably reduced. On the other, the proportion of renewable energies used to cover the remaining demand must be considerably increased.
High energy demand due to building legislation and directives
The EU Regulation is implemented in Germany via the Energy Saving Act (EnEG), the Energy Saving Ordinance (EnEV), and the Renewable Energy Heat Act (EEWärmeG). In 2018, the aim is to bundle all these regulations into the new Building Energy Act (GEG). The legislation and regulations prescribe energy-related threshold values and energy certificates for new and existing buildings. The objective is to keep the primary energy demand of buildings low. Energy losses from buildings should be prevented from the outset as far as possible through structural insulation – in particular by installing good insulation, good windows, and avoiding thermal bridges. The remaining energy demand will increasingly be covered by renewable energy sources.
A highly comfortable working and living environment that is also highly energy efficiency can be achieved only if the heating, hot water, lighting, and ventilation technology are controlled intelligently. These controls must be tailored to the structure of the building and to user behaviour. In the ideal situation, digitalisation and automation will mean buildings adapt to changing conditions, as well as to the number of people in the building and the weather conditions
GEZE products for energy-efficient buildings
Integrative solutions that focus on energy efficiency for door, window and safety technology cleverly combine comfort and security with energy efficiency. Interdisciplinary networking also provides new opportunities for energy-saving building management. GEZE plays its part in energy efficiency with varied solutions and products:
natural aeration and ventilation of buildings and temperature control of individual rooms via automated window systems
automatic opening and reliable closing of doors
intelligent GEZE Cockpit building automation system for smart integration of door, window and safety technology in the building management system. Examples of this include automatically setting the opening widths of doors based on the external temperature in conjunction with temperature sensors and heating systems, or opening and closing windows in response to the temperature.
Saving energy with natural ventilation
A considerable quantity of energy and resources are saved by naturally ventilating buildings. This means there is no need for air-conditioning systems. Mechanical air-conditioning systems need a great deal of energy. As well as requiring a lot of space in the building with resulting loss of area, the high investment, maintenance, and operating costs also mean that such systems are not cost-effective. Monitored natural ventilation is, on the other hand, far more advantageous. Energy-saving, environmentally friendly aeration and ventilation can be achieved through 'intelligent'" drives and controls from GEZE on façade and roof windows, which open and close these in a controlled manner, with minimal energy required to activate the electric drive.
Comfortable building control
GEZE technology enables needs-oriented control of façade elements, whether these are doors or windows. Each window can be controlled individually. Temperature and CO2 sensors, timers and rain-wind sensors ensure the automated opening and closing of windows. The new GEZE Cockpit building automation system enables automated doors and windows to be centrally visualised, controlled, and monitored.

The German Sustainable Building Council (DGNB) certification system evaluates the sustainability of buildings.
More than energy efficiency: Sustainable building (green building)
GEZE also supports sustainable building with its products, known as "green building". Green building means the modern, sustainable, environmentally conscious, and resource-saving construction and renovation of buildings in harmony with people and with nature. These buildings are therefore characterised by high resource efficiency in the areas of energy, water and material. At the same time, damaging effects to health and the environment are also reduced. The fundamental aspect of sustainability is, as far as possible, followed across the whole lifecycle of the building: starting with project development, planning and construction through to operation, maintenance and disassembly. Germany introduced a label for this in 2007: the German Sustainable Building Council (DGNB) certificate.
For GEZE, sustainability is a key issue of the future and one that affects us all.
Brigitte Vöster-Alber, Chief Executive Officer of GEZE GmbH
Around 120 buildings have already been awarded the DGNB certificate or a pre-certificate. This includes the German Federal Environment Agency (UBA) building in Dessau, which is a federal showcase project due to its high quality in all aspects of sustainable construction; it is also one of the most economical administration buildings in Germany. GEZE supplied the door technology.
More regarding building renovation