Case Studies
GEZE wireless fire door holders used in building renovation
Construction involving historical buildings usually also means complex cable-laying for fire protection solutions, such as ceiling-mounted smoke detectors. Our unique, tried-and-tested FA GC 170 wireless extension for fire door holders, which has already been successfully used in the renovation and modernisation of the listed head office of the metal industry trade association in Dortmund, is the perfect wireless alternative.
Modernisation of the listed Gründerzeit villa
The headquarters of the metal industry trade association in Dortmund are located in a listed classical villa. The work done in the brick building, reminiscent of the 'the good old days', is highly relevant, and tackles the top important topics facing of our modern working environment. The building was constructed in 1894 during a period of rapid industrial expansion in Germany. With its ornate façade, arched entrance with an oriel window above it and its high ceilings, it was the first 'industrialist's villa' to be built in the affluent Prinz-Friedrich-Karl-Strasse district which was established in around 1900. Today, this city palace is a listed building – and as a result presents challenges in terms of maintenance, renovation and modernisation work.
Improved convenience thanks to new door systems and optimal fire protection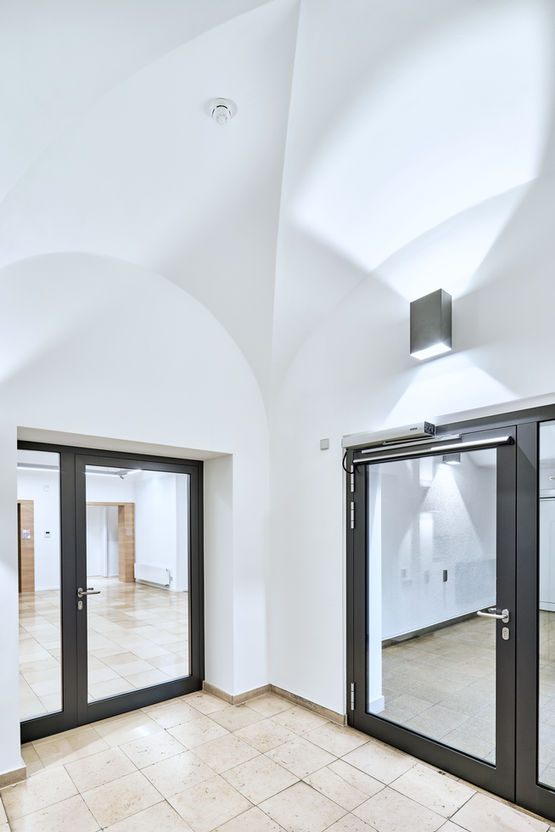 The wireless extension kit FA GC 170, the ideal solution for listed buildings. © Annika Feuss / GEZE GmbH
The trade association's 'residence' was no longer able to meet modern technology and usage demands. The renovation and modernisation project breathed fresh life into the some 20 rooms of this three-storey office building. GEZE door technology makes it even more "liveable", as it offers users and visitors modern door convenience and optimal safety, in accordance with the necessary fire protection.
New fire protection concept with automatic fire protection doors
Because the building was to be used for a new purpose, the renovation called for a rethink of the fire protection concept for rescue routes and fire protection closers. To create the desired ease of access and an open atmosphere, the new fire protection doors had to stay open using hold-open devices during daytime operation – but the doors obviously had to close automatically in an emergency. All this is possible thanks to fire door holders: the automatic door hold-open devices hold fire protection closer doors open until they are either closed manually or – in the event of a fire – are safely closed by releasing the smoke switch.
Greater safety and ease of access with GEZE door push bars and hold-open mechanisms
Reliable fire protection and accessibility for fire closures with automatic and manual swing door systems:
open and accessible during daily operation, thanks to automatic door hold-open devices and push bars
automatic closure of fire and smoke protection doors in the event of a fire
Restoring historical buildings presents challenges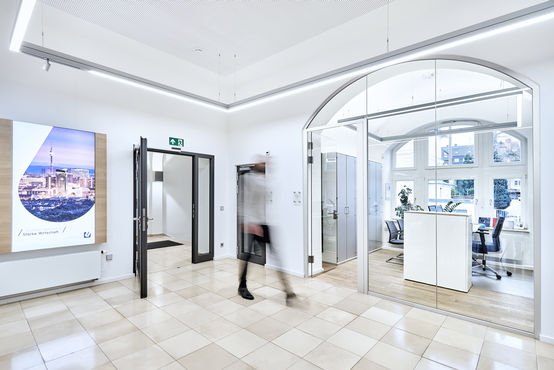 The wireless extension kit FA GC 170 allows flexible system design for particular structural conditions. © Annika Feuss / GEZE GmbH
The renovation soon raised the question: how best to meet the special demands placed on fire protection doors with fire door holders in this listed historic and architectural gem? Because of the high ceilings and the space between the lintel and the ceiling far exceeding one metre, additional ceiling-mounted smoke detectors were needed on both sides of the door. Additional cable guides in the ceiling are normally unavoidable in this scenario. Building operators, door constructors and planners thus faced the challenge of leaving historic ceilings – some of which have beams – untouched.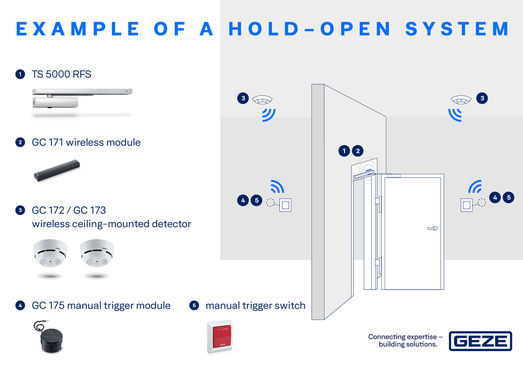 An example of the installation: no separate cable laying, no knocking-through of walls. © GEZE GmbH
The solution: a wireless extension for fire door holders
The GEZE FA GC 170 wireless extension has the great advantage of not needing any additional cables. Cable connections between lintel-mounted and ceiling-mounted detectors and/or manual trigger switches are unnecessary, making installation, retrofitting and reconstruction much easier.
Easy wireless extension installation for fire door holders
GEZE Service found it easy to attach the additional fire detectors needed for fire protection to the ceiling. All components of the FA GC 170 wireless extension for fire door holders were connected to the existing door closer system via a wireless module. FA GC 170 is therefore an optimal retrofit solution: ceiling-mounted smoke detectors and trigger mechanisms can also be connected without cables to the wireless module on the lintel-mounted detectors of other fire protection closers in the building – with no expensive cable-laying construction work needed.
Go to the wireless kit FA GC 170
Installation of the fire protection doors could not have been simpler or quicker. They also needed to be accessible, and kept open if necessary. The GEZE wireless fire door holders meant that no walls had to be knocked through for cables to the additional ceiling-mounted smoke detectors which the high ceilings called for. We were able to leave the structure of the listed building intact, use a secure and approved system, and save effort and costs as well.
Gerhard Kämper, in-house technician and renovation co-organiser
DIN-tested wireless extensions with general construction technique permit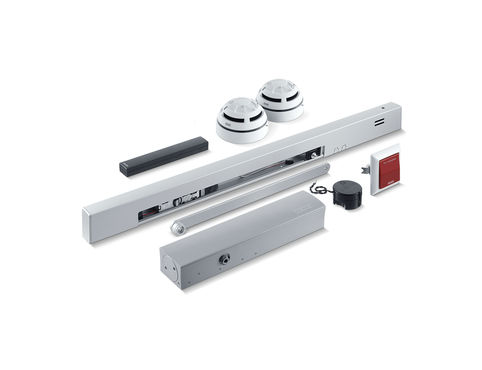 FA GC 170 wireless extension for fire door holders
We offer a unique solution for fire door holders with wireless components, tested to the European DIN EN 54 25 standard for fire alarm systems. Thanks to the innovative GEZE wireless extension with a general construction technique permit (DIBt) for GEZE fire door holders, alternative extension solutions and extension solutions which did not meet guidelines and approvals could be avoided, as well as the associated project-related, costly and time-consuming approval and permit processes.
The FA GC 170 wireless extension for fire door holders guarantees:
testing in accordance with the European DIN EN 54 25 standard for fire alarm systems
wireless extension system with a general construction technique permit (DIBt) for GEZE fire door holders
low maintenance costs, thanks to a long battery life of five years
Individual service concepts for door closer systems and fire protection
There's one key thing that meant we at GEZE were able to make a major contribution to ensuring optimal fire and smoke protection closer solutions: maintaining constant contact with our customers and partners. We maintain continuous discussion with them about the challenges of upcoming and future projects so that we can contribute our expertise and experience in the different building types and uses right from the beginning – and so deliver the best solution.
Working together to connect expertise for the optimal solutions
We involved all the trades from the earliest stage of the project. This made sure that no requirements or issues were forgotten, no inspiring idea was ignored, and processes could go hand-in-hand in an efficient network. For this historical building with its specific circumstances, we worked with the door experts of Dömer Metallbau GmbH in Nordwalde to implement manual and automatic fire protection doors and a wireless extension of the fire door holders with wireless detectors.
Comprehensive service for door systems from GEZE
Our service does not stop with the delivery of the wireless extensions: we support accessible fire protection doors and door hold-open devices throughout their entire life cycle with customised service and maintenance of all components.
GEZE offers its 'comprehensive hassle-free package' for all door closer systems, promising
consistently high availability
reliably safe operation
value retention and extended service life