Thermally separated automatic sliding doors: Sales release of the new ECdrive T2 system
We have enhanced the "all-rounder" of the GEZE sliding door portfolio with new additional features. Even better, stronger, more efficient and more sustainable, the new ECdrive T2 door drive is now available. Its flexibility makes it even easier for our customers and partners to reach their goals. In sliding door systems with insulation glazing and thermally separated profiles it offers comfort and makes an important contribution to thermal insulation in façade entrances.
ECdrive T2 with the fine-framed GCprofile Therm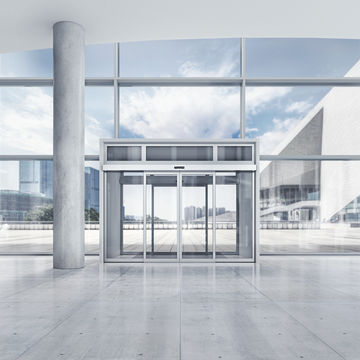 © GEZE GmbH
It is our task and responsibility to realise and to create buildings with as many uses in harmony with people and the environment. With the new ECdrive T2, we have combined design freedom, design, barrier-free ease of access, energy efficiency, safety and connectivity in a completely new way. We offer sliding door systems with the new ECdrive T2 door drive, in keeping with the energy-conscious building trend: with GCprofile Therm, the fine-framed profile system, optimised for high demands on automatic sliding door systems.
Minimising heat loss
The thermal insulation qualities of the new thermally separated profile system, in combination with the new ECdrive T2, reduce heat loss in large glass sliding doors, especially in shop fronts, as well as on the entrances of hospitals, hotels, office buildings, railway stations or airports. The heat transition coefficient of complete glass sliding door systems is significantly smaller than with conventional profiles and thermal bridges are avoided. Glass thicknesses of 32 mm can be used for double or triple insulation glazing with Ug values of 1.0 and 0.8 respectively.
Discreet door design – quiet movement
Door leaves weighing up to 140 kg can be realised with an optional double roller carriage by using ECdrive T2. This means that higher leaf weights resulting from the use of multiple insulation glazing, for example, can be realised.
The height of the drive cover has seen significantly reduced to 100 mm
The door design is more discreet and elegant
Reinforced tracks for light and quiet movement and a longer lifespan for heavy door leaves
Thermally separated automatic sliding door systems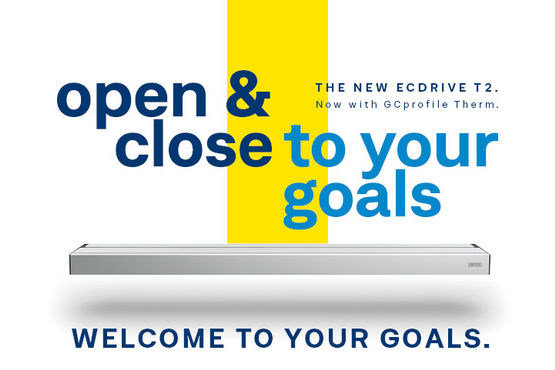 If the new ECdrive T2 with GCprofile Therm profile system is combined with thermally separated fanlights, the result is a complete door system with optimized insulation and sealing. The systems are supplemented by a continuous floor guide with drainage.
From a single source
The thermally separated fine-framed fanlights are available from GEZE as well: with single or multi-part partition including side façade panels. In this way, we can fulfil demands for design door systems with maximum transparency. Why? Because we develop solutions for our customers' needs and provide inspirational impulses which offer them even more benefits.
Safe: also against uninvited guests
For increased burglar resistance, for example during night operation, GCprofile Therm can be equipped with a manual or motorised hook bolt lock. The ECdrive T2 drive system meets maximum user safety standards in accordance with DIN 18650-1/2 and DIN EN 16005.
Like all automatic doors from GEZE, full connectivity is another very special benefit of the ECdrive T2 door drive system.
Smart benefits
Integration into BACnet networking solutions with the GEZE Cockpit building automation system
Safety and comfort: central visualisation, operation and monitoring
Installation and maintenance: more efficient and convenient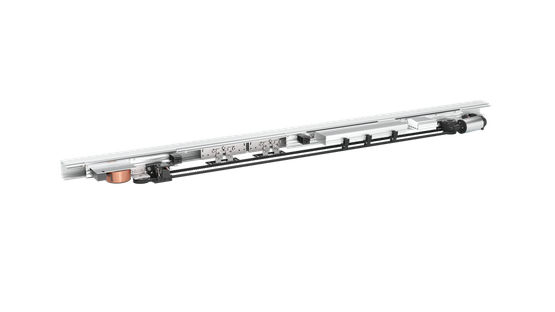 © GEZE GmbH
Installing and aligning the ECdrive T2 door drive is quick and easy.
Pre-drilled track with elongated holes
Easier cable laying thanks to integrated cable routing, new service interface on the drive
Easy connection with the service terminal or Bluetooth interface
Individual service concepts
We offer excellent service, which continues long after delivery of the ECdrive T2 sliding door system. As a professional partner for door systems, we support automatic doors throughout their entire life cycle with service and maintenance – naturally tailored to your needs.
Discover GEZE sliding door solutions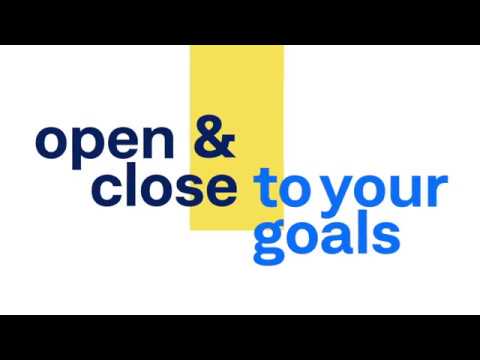 Tailor-made, efficient and open to tomorrow's requirements.