"Jugend forscht" – Nick Pfeiffer is voted regional winner with support from GEZE
Promoting young talent and innovative projects – that is what "Jugend forscht" is all about. It goes without saying that we are more than happy to support this goal. Especially when it is as convincing in terms of know-how and technical finesse as Nick Pfeiffer's research project. His research project "Das intelligente Fenster", supported by GEZE, won the regional competition "Schüler experimentieren - Jugend forscht" [Pupils experiment - Youth researches] on 16 February 2019 and was also awarded the "Sonderpreis plusMINT für interdisziplinäre Projekte".
Award-winning: "The Intelligent Window"
11-year-old Nick Pfeiffer's award-winning research project "The Intelligent window" deals primarily with two questions:
How can an intelligent window prevent carbon monoxide poisoning? A technology like this can save lives – after all, the toxic CO gas that can escape from chimneys that are not well ventilated, for example, is colourless, odourless and tasteless.
How can an intelligent window prevent the growth of mould? Mould poses a hazard to health and the fabric of the building and is preferentially found in rooms with excessive humidity and inadequate ventilation.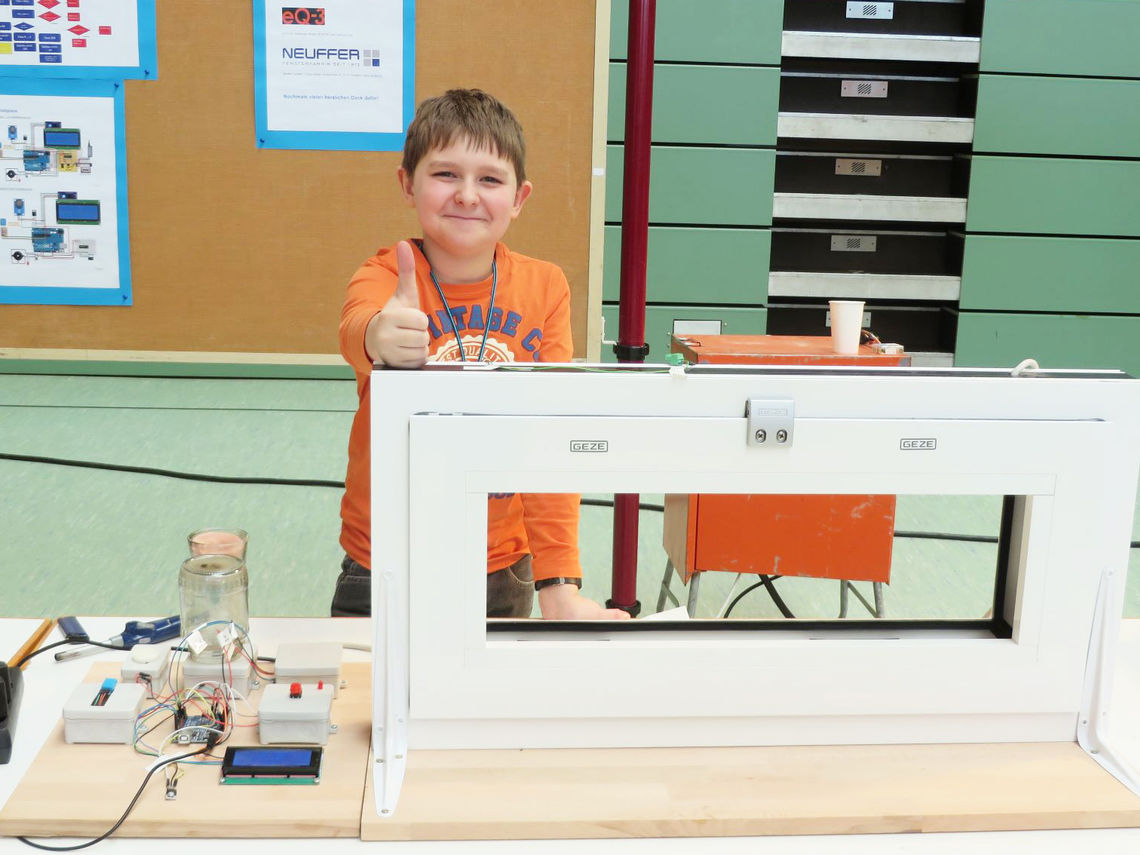 © GEZE GmbH
The ambitious project started out by experimenting with a carbon monoxide sensor. When you hear Nick talk about his research, his expertise is apparent: "I programmed an Arduino Micro Controller to trigger an audible alarm signal via a buzzer and an optical alarm signal via a red LED if the carbon monoxide content is too high. The measured values are shown simultaneously on a display. In addition, the system has a push button (interrupt) to manually disable the warning signals." While experimenting, Nick added a humidity sensor to his project and extended the program on the micro controller accordingly.
Since both carbon monoxide poisoning and mould growth can be prevented by fresh air supply, I came to the conclusion that an automatically opening window is the best solution. GEZE supported me as a sponsor by providing a window with built-in automatic opening.
Nick Pfeiffer, regional winner of "Schüler experimentieren - Jugend forscht"
The clever window with automatic window opener and CO sensor
The window sponsored by GEZE with the automatic Slimchain window opener presented Nick with a new challenge: " To connect the electrical system of the GEZE window opener with the electronics of the micro controller, I first had to produce a suitable adapter board." Apparently no problem for the 11-year-old inventor, because the concept works:
If the carbon monoxide content in the air is above 50 ppm, the alarm signals are triggered and the window opens automatically.
The window also opens when air humidity exceeds 70%, as mould can develop from this value. However, this takes place then without the warning signals, since excessive humidity does not pose a threat to life.
If the sensor values are in the "green" range again, the window closes automatically.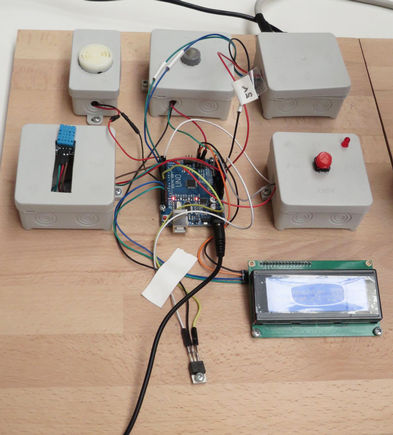 The automatic Slimchain window opener and the sensors are connected to a micro controller. © GEZE GmbH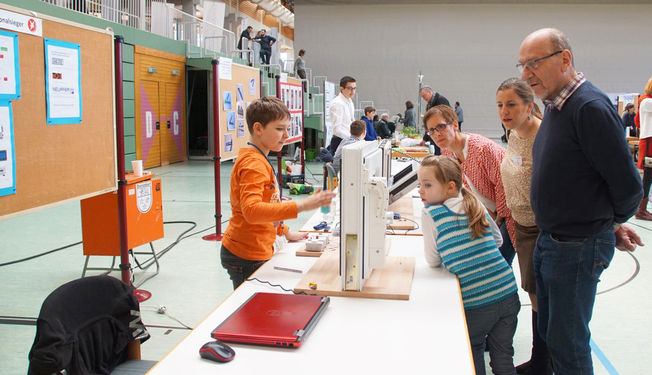 The young researcher Nick Pfeiffer presents his intelligent window at "Jugend forscht". © GEZE GmbH
Smart idea: Networking with an alarm centre and operation by smartphone
Nick Pfeiffer is already thinking about the next step, in the mindset of a professional developer and researcher: "The next step is to add an Internet signal to my project in order to trigger a message to an alarm centre or a smartphone." But before Nick develops his smart system further, he already has his next goal clearly in mind:
"My 1st place in the regional competition qualified me for the state "Jugend forscht" competition on 16 and 17 May 2019 in Balingen."
We are keeping our fingers crossed for Nick that after his awards as regional winner of "Schüler experimentieren – Jugend forscht" and the "Sonderpreis plusMINT für interdisziplinäre Projekte", he will also win the state competition of "Jugend forscht". He has already impressed and inspired us with his intelligent window and his refreshing spirit of research and development! "I would like to thank GEZE for their support, which made my project in this form possible in the first place." (Nick Pfeiffer)
We can't wait to see how regional winner Nick performs in the state "Jugend forscht" competition in Balingen.