GEZE expands its portfolio with Edora
GEZE has expanded its revolving doors product portfolio in many ways. This product portfolio now offers the optimal solution for every building type and all entrance situations. Revolving doors from GEZE are individually customised for each project, and specially manufactured to the customer's specifications.
The entrance area is the face of the building and thus of the enterprise. A positive visual impression is confirmed by the faultless functioning of the door system in every situation, for example in case of high access frequency. GEZE revolving doors meet these demands, and impress building investors and planners as well as operators and users.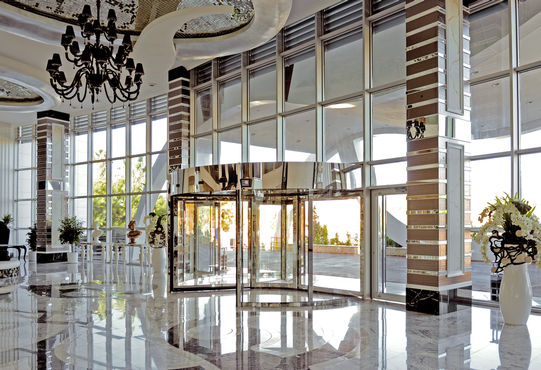 New revolving door solutions © GEZE GmbH
The new revolving door solutions have been developed in very close collaboration between GEZE and Edora. GEZE has expanded its own portfolio through its majority shareholding in the Ankara-based company Edora. Edora Otomatik Kapı Sistemleri San. Tic.A.Ş. is a renowned manufacturer of revolving doors, automatic sliding doors and hermetic doors. The Turkish company has acted as a reliable supplier for many years, and both companies have built a stable, trusting partnership over a long time. On this basis, GEZE and Edora have successfully completed a number of projects relating to automatic door solutions in Turkey and the Middle East.
Since the beginning of August, the jointly-developed portfolio has been available in selected markets through three special models. The TSA 395 door model has a very powerful drive and can be used up to a diameter of 6000 mm. The TSA 395 Multi variant also includes an integrated double leaf sliding door (ECdrive) and so enables multifunctional use. The TSA 355 basic model is characterised by an attractive price/performance ratio, and completes the portfolio.
Revolving doors offer good protection against energy loss and draughts as they are open and closed at the same time. By eliminating draught in the entrance area, the immediate environment can be used commercially, while noise, dust and dirt are kept out. The clear spatial separation between the interior and exterior, as well as the energy savings, offer significant cost advantages and make the use of revolving doors even more advantageous.