GEZE at FeuerTRUTZ 2018 – the trade fair for preventative fire protection
GEZE is presenting innovative solutions for preventative fire protection on doors and windows at FeuerTRUTZ 2018. The trade fair takes place from 21 to 22 February 2018 at Nuremberg Exhibition Centre (NürnbergMesse). The highlight of the show will be the new GEZE Cockpit which makes smart buildings even safer and more comfortable.
Even better security in smart buildings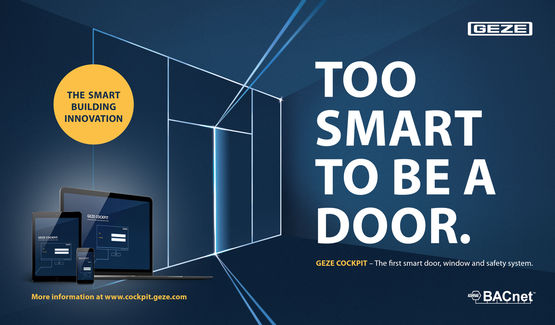 The first building automation system for smart door, window and safety technology. © GEZE GmbH
The new GEZE Cockpit BACnet building automation system makes buildings 'truly' smart and therefore safer, as it now allows automated doors and windows to be integrated into a single building management system. Thanks to interdisciplinary networking, GEZE Cockpit makes it simple to monitor and operate automated doors, windows and safety technology from a central point. Multifunctional door systems, which are safeguarded via smoke detectors, emergency door controls and access control systems, can now be controlled remotely.
The door and window systems are connected via GEZE Cockpit. Photo: GEZE GmbH
In combination with smoke and heat extraction systems (RWA), extensive ventilation scenarios can be realised. Alarm or fault messages are forwarded and allow immediate action. The IO 420 BACnet interface module assures data exchange between GEZE Cockpit and the integrated doors and windows.
Additional trade fair highlights
Networked with GEZE Cockpit, a multifunctional swing door system with the 'strong' Powerturn drive will also be presented. Using event or time-based scenarios, the system offers even better security and combines access for all, emergency exit protection and access control with remote operation and monitoring.
GEZE will also demonstrate the networking of automated window systems that are integrated into a building automation system with the KNX standard. For controlled, natural ventilation, the window drives of the IQ windowdrive series can be integrated directly as a bus participant into a KNX building system via the award-winning IQ box KNX interface module. This means that automated windows can also be 'intelligently' operated and monitored from a central location.
Fire protection and accessibility in one
Visitors will be impressed by the free swing door closer variants, which are integrated into the door or fitted on the door frame, with the unique comfort hold-open function. Doors can be locked in position and permanently kept open at the end of the free swing area without the fire protection function being impaired.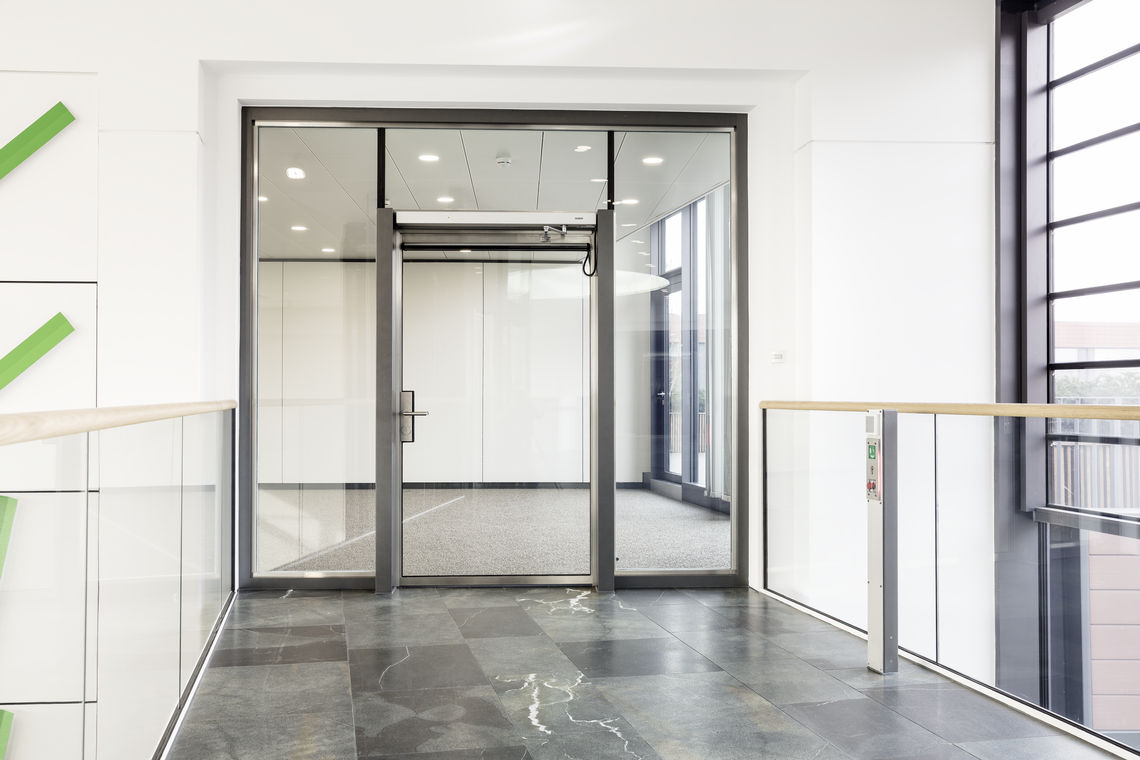 Fire protection and accessibility in one. Photo: Jürgen Pollak for GEZE GmbH © Jürgen Pollak / GEZE GmbH
Small dimensions and compact configurations are just some of the special benefits of IST Systems electric strikes. With a focus on fire protection and safety doors, GEZE can boast of a full range of innovative electric strikes. They are compatible with the electric strikes from all standard manufacturers, and easily replaced in existing doors. The FT500 compact fire protection electric strike is the solution for the narrowest of door profiles. It is the smallest electric strike variant permitted for fire protection doors, and has been specially developed for fire protection doors with enhanced safety demands.